Golf in the Community
Here at the Mearns Castle Golf Academy, we are extremely proud of the work we have done within the local community to help and support other sports clubs, charities and vulnerable groups.  We use golf as a vehicle to promote social inclusion, participation and fundraising.
Charity Work
Over the past 3 years, we have raised over £10,000 for various local charities at our annual charity golf days, longest day in golf challenge and various fun fundraising events.
These charities include:
• Beatson Cancer Charity     • Catherine McEwan Foundation     • Cash for Kids     • MND Scotland
Golf in the Community
Golf in the Community is our way of engaging various social care projects by using golf as the vehicle to improve both the physical and social health of our golf in the community participants.  We have engaged various local stakeholders including East Renfrewshire Active Schools program, Alzheimer's Scotland, local care homes, GP's and the council own sports and leisure trust who all provide referrals into the program.
We run specialised Golf In Dementia session on a Tuesday morning, providing a safe and enjoyable space for dementia suffers to play some golf, have a chat with our golf volunteers and share stories of their golfing past with new friends.  We have a team of volunteers from within the Golf Club that help out during the sessions, as well as trained golf activators who run the project.
To get involved in our golf in the community project, or for more information please call Russell on 01416448200 or email russell@mcgolfacademy.co.uk
Local Sports Club Sponorship
We also help support various local sports club to help support them with their own fundraising efforts, as well as providing them with sponsorship for strips.  The Clubs we support are all shown below in their lovely new team kits.  We wish them all a successful season and hope to see some silverware at the end of the season.
South Glasgow Football Club
Eastwood Parkmount Football Club
St Claires Primary School Football Club
Shawbridge Football Club
Whitecraigs Rugby Club
Paragolfer
Golfers who were forced to give up the sport because of disability are now able to play again thanks to our revolutionary machine.  Players are elevated from a sitting to a standing position with the Paragolf mobility vehicle.
Paragolf Scotland, in partnership with the Golf Academy, own Scotland's only publicly accessible Paragolfer.  The £20,000 aids are free to use on the driving range or the nine-hole golf course.
Russell Gray, operations manager at the golf academy, said: "The Paragolfer is like a ride-on buggy that players they can drive towards their ball. The Paragolfer then lifts them into an upright position and allows them to swing and hit the ball as any of us would. It's phenomenal."
Being able to play golf again has transformed one of our members, Ryan MacDonald's, life.  He had to give up the sport when his mobility deteriorated, leaving him using a wheelchair.  But the Paragolfer changed all that.
Ryan said: "Finding it was out of this world. I'll never forget the minute it stood me up and I was ready to take a shot and my dad was standing next to me. I would have given 10 years of my life for that minute."
Ryan was 19 when he became ill and lost the use of his legs after being bitten by a tick.  He was coaching football and tennis in the States when his central nervous system became affected.  Father of three Ryan, 35, who works in housing and lives in Crookston, Glasgow, took up wheelchair sports including basketball and tennis after his mobility deteriorated.  For years, he had played golf with his dad and brother and he sorely missed joining them on a course.
Ryan added: "A whole chapter of my life had disappeared."
The Paragolfer means he can again get back on the course with his family.
He added: "I've been out with my brother and dad and son.
"It's had a massive effect. It's been life-changing for me being able to play golf again."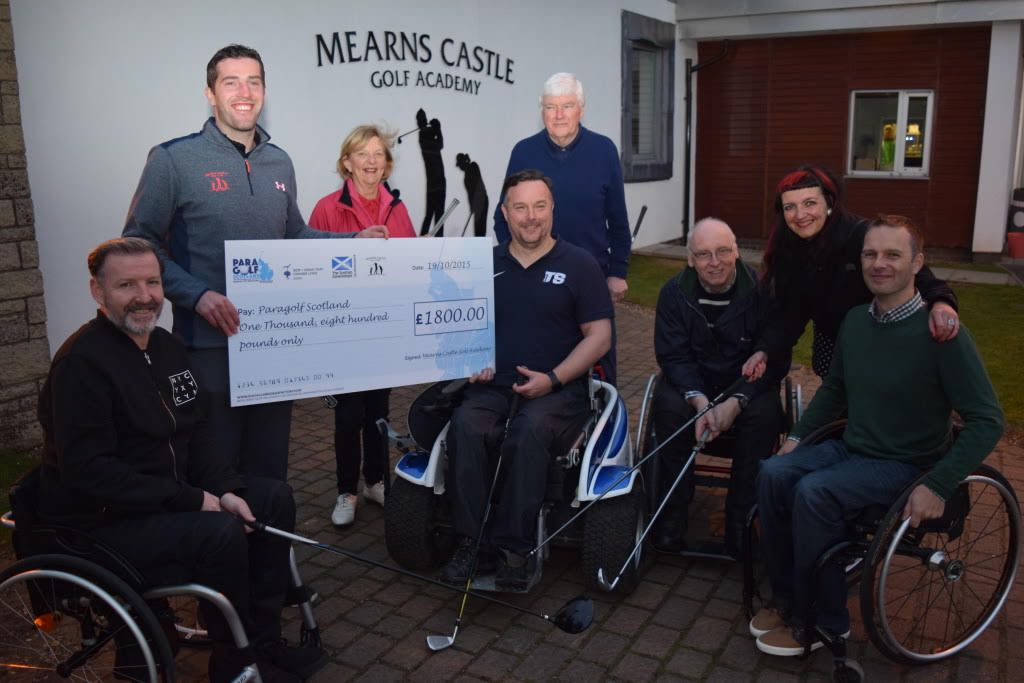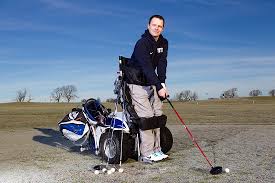 Scottish Disability Golf  (SDGC) Hub
The HUB is a meeting place for our new, existing members, coaches and volunteers and be part of the SDGC free lessons programme.
The Free Lessons Programme is fully sponsored by the SDGC and provides a series of golf lessons to each of our members, with tuition provided by our PGA Pro's.